After years of so-so films, Woody Allen got his groove back with the London thriller Match Point.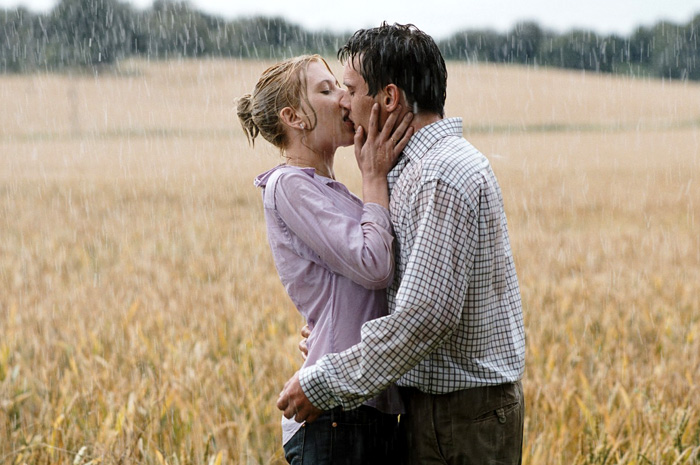 MATCH POINT (2005)
Starring Jonathan Rhys Myers, Scarlett Johansson, Emily Mortimer and Matthew Goode
Written and Directed by Woody Allen
Distributed by Dreamworks Pictures
124 minutes
While examining the films of Woody Allen this month, I've made clear my preference for his comedy-dramas. I love the films that I've talked about this month like Manhattan and Broadway Danny Rose because they're sentimental and make you laugh, but also have a dark side that make you think. One of the few exceptions to this rule is Allen's 2005 thriller Match Point. The story of an Irish sociopath who lies his way into the British upper class is all dark side and over the years has become one of my favorite Allen films.
When we first meet Chris Wilton (Jonathan Rhys Meyers) he's a retired tennis pro who's landed a job at an exclusive London tennis club. "Tennis was a way out of a poor existence" Chris mentions during the film and is one of the few pieces of his past that he ever shares.
As much as I love Allen's neurotic New Yorker characters, these flawed individuals are usually good people deep down. It's rare that we ever get a truly bad person in an Allen film and Chris is definitely one of Allen's all time best baddies.
Meyers gives Chris exactly the right measures of what I want to see in a film sociopath:   someone who's callous and manipulative yet also charming and very sexy. You're simultaneously disgusted and intrigued when Chris begins romancing the naïve Chloe (Emily Mortimer). Not only is Chloe completely unaware of Chris's duplicitous nature but she also happens to belong to the affluent Hewett family, one of the richest in London.
By the time he's joined the Hewett company and is engaged to Chloe, you understand that every move Chris has made throughout the film has been part of a well thought out plan to become part of the upper class.   And that plan would have come off perfectly if it weren't for one thing:his brother in law's girlfriend Nola Rice (Scarlett Johansson).
Nola is a woman who may have failed at family and a career, but she always knows exactly how to seduce a man. Meyers and Johansson have amazing chemistry and all their scenes together are hot, hot hot! (just look at the pic at the beginning of this post)
Chris should be happy that he managed to score someone like Chloe but of course he wants to have it all: the rich wife and the sexy American mistress.   Over time Chris's obsession with Nola starts to derail his carefully thought out plan and he's forced to drastic measures to make sure his sham of a happy life stays intact.
Match Point marked the beginning of a new European period for the director.   While it may seem initially strange not to see the Brooklyn Bridge or Empire state building behind the characters, I think it's good Allen's gotten out of New York City for awhile. Moving to London has given him fresh eyes to tell a story and he gives the city the same care and attention in the shots that he does in his New York films. While of course I hope Allen eventually returns to New York, I just hope that the director still has many more stories of humor- and occasionally darkness- left in him.