Last March, I heard the film Making A Name, a documentary on Montreal's graffiti scene, was screening at the FIFA Festival and got tickets right away. I was lucky because it was the only screening of the movie and it sold out quickly.
Patrick O'Connor, the man behind this amazing project, started photographing the Montreal graffiti scene back in 1995. In 2004, he got his first video camera and started documenting Montreal's graffiti sub-culture using the contacts he got as a writer back in the 90s. I recently got the chance to meet up with Patrick and talk about his past projects and his new film Freights, which premiers tomorrow at FIFA.
 Why did you decide to create Making A Name?
I was planning on making a global documentary originally. I traveled in Europe, visited 15 cities in 10 countries, and got a lot of footage. Then Pablo Aravena came out with the documentary Next: A Primer On Urban Painting in 2005, which is probably one of the first global documentaries. After reflection and discussion with David Boots, a very good friend, I decided to do the project on a smaller scale and focus on Montreal.
How long did it take to make the movie? What was the biggest challenge?
It took almost ten years to make Making A Name. The action shots of the movie were mostly filmed between 2004 and 2008; some interviews were done around 2007-2008, but most of them were done between 2008 and 2012. The biggest challenge was to feel stuck in between some writers fighting for different reasons; some people gave me a bit of a hard time but it all worked out. Most of the writers knew me already so they trusted me.
How did you react when FIFA decided to screen your movie?
I did screenings of rough cuts in smaller venues such as bars for a few years before that, which although also had amazing turnouts overflowed with people, with getting into FIFA I felt it validated me as a filmmaker for the first time.
What did you think of the night of the premiere? The Cinquième Salle at Place des Arts was sold out with a very vocal crowd. 
I was totally expecting the audience to be loud. A lot of the writers smuggled some booze in and were more vocal than others. The street artists got booed by some writers, as some are hardcore purists and don't like their work. It was a fun time.
Will Making A Name be released in theatres? Has it been in other festivals?
Making A Name along with bonus material will most likely be released on Youtube and limited DVD copies as well eventually. It did screen in Toronto in a theatre and that went well. I did the movie more for the experience, to learn and now I know more about making documentaries.
How would you define the Montreal graffiti scene? What has changed over the years?
There is a lot less graffiti in the metro, there used to be tags on every step of the escalators back in the days. There are a lot of new writers in the streets, but the game itself is the same. A bunch of the older writers are still around, some who still do illegal work while others mainly legal. There was a lot more political graffiti here around the time I started documenting it in 1995.
Do you have a favorite writer?
Scan is my favorite for his overall style and the amount of work he has done since he started around '96 in NDG alleyways. He is very consistent in his quality of letters and styles whether it's a tag, a throw up, or a mural.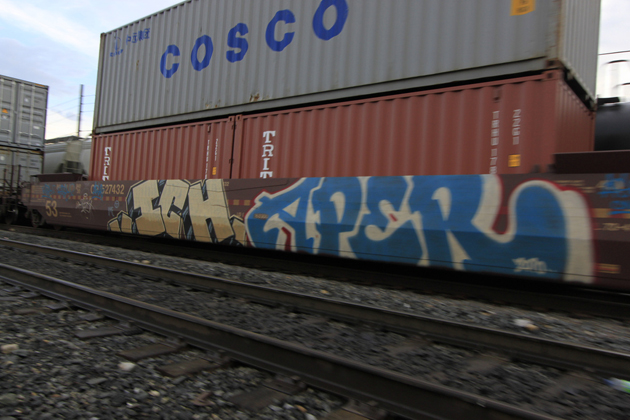 What is next?
Freights, my new documentary on graffiti on freight trains in North America, mostly Canada, as it helped save time and money. I traveled across Canada from Victoria to Halifax to meet and interview writers. A lot of the B role (of passing trains) shots were shot in Saint-Henri, as it's one of the busiest train lines in this city with names from a wide range of provinces and states. It is a look in a specific subculture of graffiti.
Freights will be premiering on Friday, March 21st at 9 p.m, and the second screening is on Sunday, March 23rd at 6:30 p.m. Get your ticket on FIFA's website.