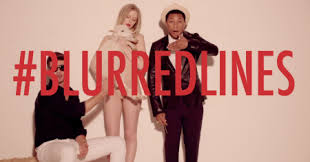 #songofthesummer
No summer would be complete without that one infectious beat and killer hook that keeps bopping around everyone's heads. You walk into the mall and it's playing through the loudspeaker, you get in your car and it's coming out of the radio… you just can't escape the song of the summer. At first it seemed like Daft Punk had received the lucky honour with their irresistible single Get Lucky until we were faced with the warbling falsetto of Robin Thicke, accompanied by a stripped down dance beat in Blurred Lines.
#hatetolikeit
The song probably would have just become another small blip in the pop music landscape if it weren't for the controversy-generating explicit version of the video. It features three topless models in a series of flirty, suggestive and downright ridiculous scenes with Thicke and collaborators on the tune, Pharell and rapper T.I., including a tableau of silver balloons spelling out a message about the singer's endowment.
The nudity isn't so much what bothered me about the song as the content of the lyrics, even down to the title itself, which implies a blurring of the lines between what is explicitly stated and what is implied, the age-old dilemma at the heart of rape culture.
"The song is about how a girl really wants crazy wild sex but doesn't say it – positing that age-old problem where men think no means yes into a catchy, hummable song," noted Tricia Romano in The Daily Beast.
#notafunnyjoke
After telling GQ that he wrote the song with Pharell in the studio in a matter of hours, Thicke joked about how much fun they had depicting every taboo they could come up with in the video. He added that he and his collaborators should be given a pass on their seemingly offensive behavior because they didn't really mean it, since in real life they're all happily married. Thicke even obtained permission from his wife before filming the video.
"People say, 'Hey, do you think this is degrading to women?' I'm like, 'Of course it is. What a pleasure it is to degrade a woman. I've never gotten to do that before. I've always respected women,'" Thick said.
He went on to declare the song a "feminist movement" on the Today show, since it apparently empowers women. That's right, women are dying to be referred to as good girls who will end with something big enough to split their ass in two, in the song' most offensive lyric.
#unsettling
That's mostly where I struggle with this song: it's hard to take it too seriously, especially when it's clearly not taking itself too seriously… but then again, why is it acceptable or even funny to joke about these things in the first place? I guess I get what he's trying to do but that doesn't mean I have to like it.
Plus, what about all the people who are exposed to the song and video that aren't in on the joke? For them, it continues to perpetuate the patriarchal double standard of a world where women are objectified and aren't even allowed to think for themselves anymore, as evidenced by the song's often-repeated chorus of "I know you want it".
Despite its nausea-inducing levels of sexism, the song has reached number 1 and stayed there for a number of weeks. So if his plan (or that of his clever management team) was to generate enough controversy to sell a bunch of records, they're laughing all the way to the bank.
I guess the silver lining is that it's really gotten people, especially critics talking, although it seems like for everyone who speaks out against Thicke, someone else stands up for him.
#consentissexy
The best part of every incendiary video like this is the slew of imitations and parodies that follow it. It didn't take long for a role-reversal version made by (insert name here) to hit the internet. It's laughably funny to see scantily-clad men prancing around an enticing female singer, indicative again of just how ingrained those sexed-up images of women are in contemporary culture.
Another clever parody came from a group of Halifax musicians, who were enraged by what they heard and turned the misogynist message of the song around to emphasize the importance of consent.
"Pop culture is so effective at spreading messages," said singer and lyric co-writer Kaleigh Trace. "It's a great way of having fun, and we think that consent and sex-positivity is a pretty good message."
Ask First from Brendan Anckaert on Vimeo.