Before beginning their final track of the evening, Shame, Young Fathers' vocalist G Hastings takes centre stage; for a fleeting moment, it feels like I've left the concert hall and entered some kind of mystical protest site—part political and part spiritual.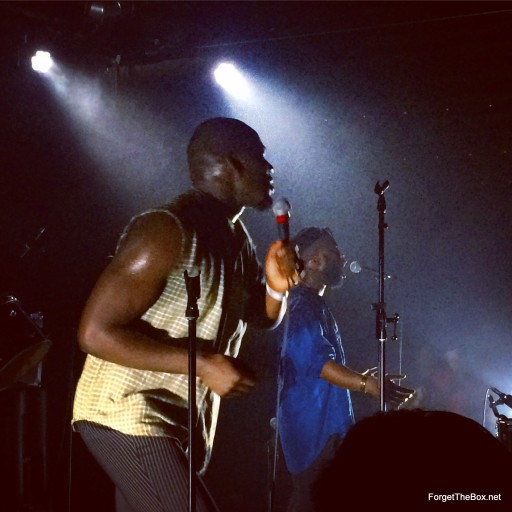 With an austere look cast across his face, Hastings delivers the statement: "We are all refugees." And without allowing much time for those words to fully resonate, the band leaps into a passionate and kinetic final song, the line "Shame on you," repeating over and over.
In a Young Fathers show, there is a looming sense of heaviness, of burden, of trouble in the world; their regulated hip hop beats and smooth r&b vocal harmonies seem to be constantly under threat of being drowned out by discordant noise.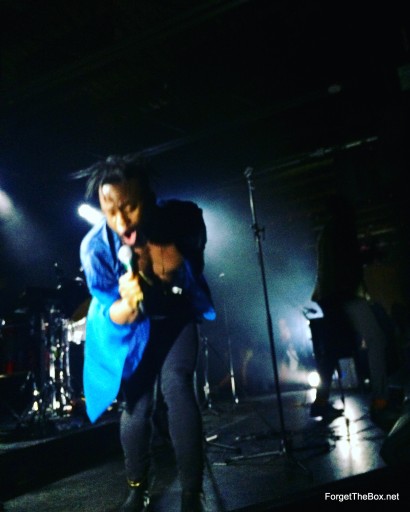 Implicitly speaking to the world community's failure to properly address the Syrian Refugee Crisis, Young Fathers place the blame and the "shame" not just upon political leaders, but also upon themselves and upon their audience, too — fun stuff for a casual Thursday night show. But it wasn't all doom-and-gloom. As much as Young Fathers touch on elements of darkness and despair in their performance, the concert felt like a kind of catharsis, it seemed to channel a clear sense of hope.
Indeed, a Young Fathers show is a multi-leveled, one-of-a-kind spectacle, and a ton of fun, too. I spent most of my time during the 1 hour and 15 minute set dancing, feeding off of the indescribable levels of energy put forth by the band—in particular, the wildly erratic jerks and gyrations of Kayus Bankole and the powerful drum patterns of Steven Morrison, who uses his full body to keep time. The performance was incredibly physical, and the band's eagerness to move and explore the space onstage had me moving, too (even though my moves were more of the Dad-variety).
When the lights finally went up at the end of the set, I felt as though I was being beamed back down to Earth. For a few minutes, I gazed dreamily around the room, regaining my bearings, incoherently clapping and mumbling "One more song!"
I left the Fairmount on Thursday night feeling as though I had been a part of something spiritual, something important—even though I can't really articulate what that was.
* photos by Georgia Vatcher