Peter McQueen is a character, there's no two ways about it.
He has an air about him like he's a bit fed-up. His eyes dart around him; we're at the Shaika in NDG. He sees people he knows and cracks a quick smile, registers a polite nod.
I'm taken with it off the bat; it's not the kind of permanently chiseled smile most career politicians always seem to be wearing, always a half-beat away from an overly enthusiastically hearty laugh. Mr. McQueen is more genuine than that, but I nonetheless sense a frustration emanating from him. I've seen it before – it's the frustration that stems from trying to earn the public's confidence enough to do a thankless job and then realizing the public is not so much interested in solutions as they are in griping about god know's what.
It's a kind of world weariness I associate with a lot of Projet Montréal candidates, especially the more interesting ones. They have every idea of just how insurmountable the wall of public apathy can sometimes be.
I sat down with the incumbent Projet Montréal city councillor for Notre-Dame-de-Grace (NDG) across from Girouard Park on a simply stunning autumn day. He swiftly moved from idea to idea, cracking jokes and smiling before getting serious and pensive. I felt like there was a small engine quietly purring in the back of his mind working on other problems and issues altogether and yet I never felt like I had lost his attention.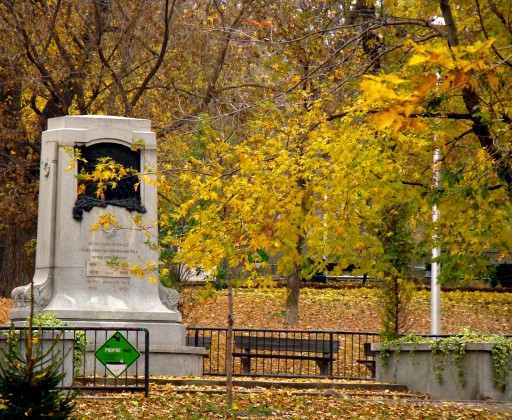 To put it mildly, it was a sight. I would encourage all residents of NDG to have a word with him.
A veteran city councillor, Mr. McQueen is running his second municipal election and is hopeful his party will break through in the city's West End. When he was first elected in 2009, he was the only PM representative of the western part of the city, but this time around the party is far more visible and is looking to make major gains in many boroughs.
McQueen grew up in NDG and lives there currently; by his own admission he has spent much of his life there and feels particularly attached to it. He's an alumnus of the prestigious Liberal Arts College of Concordia University and prior to his career in politics worked for nearly a decade as a tabulation manager in a polling firm, before starting his own home reno business. He further ran as a Quebec Green Party candidate (twice, in 2007 and 2008) and while he didn't win, he earned the highest score of any Green Party candidate in the province.
What encouraged you to get involved with municipal politics?
Traffic planning around the new MUHC SuperHospital. It was poorly planned starting day one. I couldn't believe what they were proposing, how backwards some of the plans are, and given what we know now about some of the people up at the top of the organization, well, you can understand why I felt motivated to try and instigate a change.
What are the people complaining about, what do the citizens want?
Well, I'll start by telling you about complaints. I need people to stop shooting the messenger. This goes for everyone in this city, not just the people of NDG. The people of Montreal need to distinguish between the person who caused bad news and the person reporting bad news. If there's one problem we (Projet Montréal) have to deal with all too often, it's that some citizens get angry at us and accuse us of being part of the problem when all we're doing is mentioning that various problems exist in the first place and need to be addressed.
I can imagine it's draining…
It can get you down; we persevere though. To answer your question more directly, the people of NDG need better traffic solutions for the MUHC site, inasmuch as better public transit access in general for the borough.
This is a well connected borough though, isn't it?
In some respects yes, but a major problem we're discovering is that high-volume public transit systems, like the commuter trains and the Métro, are overcrowded by the time they reach NDG. This means that we have more people using their cars to get from NDG to the city, as an example.
The trend was supposed to go in the other direction; people living in first ring urban residential areas are supposed to be transitioning permanently to public transit, but public transit hasn't fully kept pace with the needs of the citizen. If people in NDG think traffic is bad now, wait until the MUHC is completed and work on the Turcot begins. For areas like NDG and Cote-des-Neiges, better public transit access and new systems are vital.
New systems, like a tram?
A tram is one possibility, but it's also just one part of a larger more comprehensive traffic cocktail, if you will. Bus Rapid Transit is also effective and would be more effective along certain routes.
But NDG is a kind of transitional neighbourhood. It's not the suburbs and it's not the city, it's something in between that supports a larger population than that which actually resides here. Ergo, we'll eventually need an entirely new transit system to meet new needs and fill the connectivity gap between the Métro and the bus. Already one of the major challenges we face is an unending stream of morning rush hour Métro trains over-crowded before they get to NDG, and this is leading some NDG residents to go back to their cars, which now have to operate on roads being torn up at seemingly all the major choke points.
What are your plans for the borough?
I'll list them for you:
– A pedestrian and bike bridge over Décarie to Vendome
– Keep Upper Lachine Road open so that the 90 and 104 buses can continue using it
– The road over Décarie leading towards Monkland Village from Villa-Maria Métro station needs a taller fence, the current one isn't up to code and people are at risk of falling into the trench. In fact, the entire 'entrance' to Monkland Village could be improved
– Girouard Park needs some attention – it's the only large park in Eastern NDG and it's been neglected for far too long
– Finally, we need to improve the safety around our borough's elementary schools. Many local kids walk or bike to school and so I'd like to see new safety measures put up, be it in the form of more crossing guards, speed bumps, higher speed limits and the like.
How will you maintain a balance between our dual need for urban gentrification inasmuch as our need for sustainable communities and affordable housing?
Mostly by maintaining our current stock of rental units and preventing conversions. That said, we also could do some work improving the image of the cheapest parts of NDG. I hear people talking about Fielding and Walkley streets as if they were desperately poor and havens for all manner of criminality. The truth is, both Walkley and Fielding's bad reputation is entirely overblown.
A new community centre and community restaurant on Fielding could do a lot to turn things around. But that's us as a party: we come up with simple, straightforward, community focused solutions for a myriad of problems experienced by urban residents of Montréal.
How are we going to crack the 40% participation rate?
We need a mid-weather day, not too cold, not warm either, cloudy, maybe a hint of drizzle but no rain, overcast with occasional, fleeting sunny breaks, about 10-15 degrees out. Given the date of the election, these are the ideal conditions to get people out of their homes and in to their most sacred and the most basic method of participating in a democratic society.
I'm hopeful that our non-combative, patient and compassionate approach resonates with the voters. We didn't have any robocalls because we're not interested in telling the voters what they'll get if they vote for us. When Projet Montréal calls, it's a real person and that person wants to ask you what you want, what you need and what you think.
That's what this city needs – politicians who'll listen.