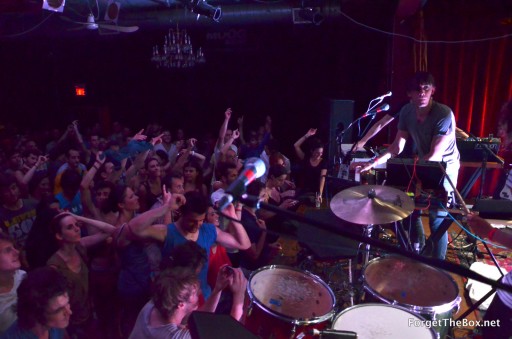 Though our bodies were warmed by the heat of the night and the heat of other people packed into Sala Rossa, we all needed a good opener to warm up our booties. Local act DJ Cherry Cola, who has a long history of working alongside big names, did the job for us nicely, spinning originals and remixes with a good sense of timing. His peaks were always satisfying, his bass was heavy, and he left the crowd bouncing and smiling, ready for the night's headliner. Sweat was already pouring down the foreheads and the backs of most of the crowd, at it was about to get a lot worse. Or better, depending on how you look at it.
For almost as long as he's been known as Yuksek, Rime's Pierre-Alexandre Bousson has been a solo act producing glam-tinged electronic tracks that often become classic club bangers. His hooks are catchy, and always laid over clean house beats. He has earned quite a bit of renown in the electronic scene, and even handled the production of Birdy Nam Nam's second album—except for the one track produced by Justice, of course.
On this night of July 6th, Yuksek was celebrating the release of his new album, "Living on the Edge of Time", an album which has added even more of a shiny pop direction to Yuksek's usual clean house style. He took the stage slightly before midnight, joined by the two artists that have been backing him on the tour for this newest album. The added members gave Yuksek's performance some depth and interest, the live drum kit especially. With the shiny production and electro-pop feeling of his recorded tracks, the depth that a real drum kit added is priceless, and largely contributes to their live show feeling much more rock 'n roll than their recordings suggest.
The second keyboardist is a multi-instrumentalist, sometimes whipping out a bass to add even more warmth and depth to Yuksek's largely digital sound. The three artists also pull off some impressive vocal harmonies, which the boys will sometimes hold while the drummer lets lose with a few verses of straight-up hip hop.
The crowd was tightly packed, mostly made up of young, well-dressed people you'd find in expensive clubs late at night. Everyone seemed to be enjoying themselves, with people even at the back of the room rocking out in full force. Sweat was pouring off of the artists and the crowd, splashing off of flying arms and clapping hands. The heat didn't discourage anyone from packing against the stage, or from allowing themselves to be driven by Yuksek's sound, which, in this live show, was much more driving and far less lofty than what their recordings had me believe.
If you missed him at Sala and want to take in just how thumping Yuksek's new trio can be, consider catching him on the 14th of July at the Festival d'été de Québec, in Québec city.